Updated on May 21, 2022
Self-employment
VAT is a complicated tax with severe penalties. We'll walk you through some of the VAT-related challenges you can face as a self-employed person on this page. Please note that this is merely an overview.
VAT registration is not required for all self-employed firms. This page explains what VAT is and when you might need to register as a VAT trader.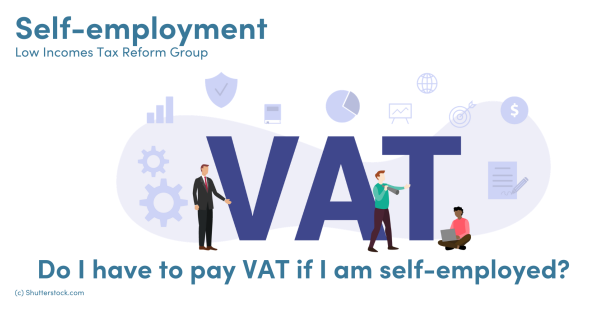 What is VAT?
The VAT stands for Value Added Tax. It is a sales tax levied on the value of products or services provided to customers by VAT-registered businesses.
According to the legislation, UK traders with sales (turnover) above the VAT level must register for VAT and charge it on deliveries of goods or services, as stated below. The VAT is collected by the trader and subsequently paid to HM Revenue & Customs (HMRC), the government's tax collection agency.
Traders with sales below the VAT threshold are not required to register for VAT (though they may do so freely), hence not all traders must be VAT-registered.
What rate is VAT charged at?
VAT is charged at a regular rate of 20%. Certain items are taxed at a lesser rate, such as children's apparel, which is charged at 0%, while home fuel, such as gas and electricity, is charged at a reduced rate of 5%.
The rate of VAT was temporarily decreased for various businesses affected by the coronavirus pandemic, such as hospitality and tourism. On March 31, 2022, the temporary discount ended. GOV.UK has further information about this.
Are all sales liable to VAT?
They certainly aren't. Because their firms' turnover (sales) is below the VAT registration level, some traders are not registered for VAT and hence cannot charge VAT on their sales (unless they choose to register voluntarily – see 'When do I have to start charging VAT to my customers' below). Some commercial activities are also exempt from VAT. Visit GOV.UK's 'Get started' section for further information.
I have been charged VAT on some of the items I have bought. Can I get it back?
Unless you are a visitor from another country, you will not be able to claim any VAT if you are not VAT registered.
If you're a VAT-registered business, you'll usually deduct the VAT you've paid from your suppliers from the VAT you've charged your consumers. Each time a VAT return is filed, this is done. HMRC must then be paid the net amount of VAT reported on your VAT return. If you paid more VAT to your suppliers than you charged to your customers, HMRC should refund you the difference when you file your VAT return.
When do I have to start charging VAT to my customers?
When you become a VAT registered trader, you must begin charging VAT on sales. This may occur as a result of either mandatory or voluntary registration.
You must assess if you are legally required to register for VAT once your business income meets the VAT registration level (this is compulsory registration).
For mandatory VAT registration, there are two distinct tests:
You must total your sales for the month each month. The total amount for that month and the preceding 11 months of your VAT taxable turnover must therefore be kept in a 12-month running total. The VAT chargeable turnover and sales will be the same for many businesses. You must register for VAT by the end of the next month if your total exceeds the VAT registration threshold (£85,000 for a 12-month period ending in 2022/23).
If your VAT taxable turnover reaches £85,000 in the year ending August 31, 2022, you must register for VAT by September 30, 2022. From October 1, 2022, you will be obligated to charge VAT on your sales.
Remember that you must register for VAT if your VAT taxable turnover in ANY consecutive 12-month period exceeds the registration threshold – not simply the level of VAT taxable turnover in your 12-month accounting period.
If you believe your VAT taxable turnover for that 30-day period alone will surpass the VAT registration threshold (£85,000 in 2022/23) at the start of that 30-day period, you must register immediately.
Once you've registered for VAT, you'll need to add the proper amount of VAT to your sales invoices and file VAT returns.
You may choose to register for VAT even if you are not obligated to do so due to the volume of your sales. Voluntary registration is the term for this. You might wish to do this because you know the VAT you pay on your purchases will be higher than the VAT you must charge on your sales, and you'll be able to collect regular VAT refunds if you register for VAT. If you're thinking of registering on a voluntary basis, check out our article: Are you in low-paying self-employment and thinking about becoming VAT registered?
GOV.UK has more information about registering for VAT.
When you register for VAT after April 1, 2022, you must also select whether you must adopt the 'Making Tax Digital for VAT' standards. Unless you are excluded from Making Tax Digital for VAT, you will be required to do so. As a result, you'll need to apply for VAT exemption from Making Tax Digital at the same time as registering for VAT, or start keeping digital records right away. The section 'What records do I need to keep for VAT?' below has more information on the records required when you are VAT registered.
Currently, registering for VAT and signing up for Making Tax Digital for VAT are two separate processes, however they will most likely be integrated in the future. You can't register for Making Tax Digital for VAT unless you obtain your VAT number.
How do I register for VAT?
The majority of firms may register for VAT online. Otherwise, you must fill out form VAT1. GOV.UK has more information on how to register for UK VAT.
When do I have to make VAT returns to HMRC and pay my VAT?
The majority of firms are required to file quarterly VAT returns. They must be completed and filed within one month and seven days after the relevant period's end, with payment provided at the same time. A VAT return for the three months ending June 30, 2022, for example, must be submitted by August 7, 2022. VAT returns for the three-month periods ending 30 September 2022, 31 December 2022, 31 March 2023, and so on will be required in the future.
With the implementation of HMRC's 'Making Tax Digital' regime, the way most VAT returns must be filed has recently changed. What is Making Tax Digital in the Case of VAT? for additional information about completing VAT returns in detail
If you have difficulty dealing with digital issues, such as a disability or living in a region where broadband is unstable, you may be eligible for an exemption from filing your VAT returns electronically. If this is the case, HMRC should be able to make alternate arrangements for you to file your returns. To discuss this, you should contact HMRC.
You may be entitled to utilise a variety of VAT schemes, which are briefly described below and also on GOV.UK in the section Different ways to account for VAT.
Are there any simplified VAT schemes which may suit my business?
You may be able to adopt a simplified VAT plan depending on your type of business and annual sales. The table below contains a quick explanation of the various VAT schemes used by self-employed enterprises, as well as links to more information. Additional VAT schemes are available that are not covered here; they are explained on GOV.UK under Different ways to account for VAT.
UK.
Scheme
Eligibility
Important points
More information
Annual accounting
Estimated VAT taxable turnover for next 12 months is £1.35 million or less.
Submit one VAT return annually.

Make advanced VAT payments during the year.

Not suitable if you anticipate regular VAT repayments.

See GOV.UK.
Cash accounting
Estimated VAT taxable turnover for next 12 months is £1.35 million or less.
VAT is calculated on actual cash receipts and payments rather than based on invoice dates.
See GOV.UK.
Flat rate
Estimated VAT taxable turnover for next 12 months is £150,000 (excluding VAT) or less.
Pay VAT based on a fixed percentage of your sales, the percentage used depends on the business sector and you may also have to consider the amount of business expenditure incurred on 'relevant goods'.

Do not claim VAT back on purchases except certain capital assets costing over £2,000.
What happens if I pay my VAT late or submit my VAT return late?
Noncompliance with the VAT system carries a hefty price tag. GOV.UK has further information.
⚠️ The penalty system is changing and new rules come into effect on 1 January 2023. We will update this page with information on the new system shortly.
What records do I need to keep for VAT?
Generally, you should maintain all information related to your VAT return for at least six years, including business invoices and receipts. On GOV.UK, you can find thorough information on what you need to keep and for how long.
When the Making Tax Digital for VAT regime went into effect in April 2019, some changes to the record-keeping obligations for VAT were effective. You must preserve at least some of your records in digital format if you must comply with the Making Tax Digital for VAT standards. The new standards are explained in our section on digital recordkeeping.
When do I no longer need to be VAT registered?
If your company is VAT registered, you must cancel your VAT registration when you cease operations (unless you have sold your business as a going concern and the new owner has kept the same VAT registration number, but you should take professional advice in this situation). A penalty may be imposed if you do not terminate your VAT registration within 30 days of ceasing to trade. You can notify HMRC either online or by filling out form VAT7 on GOV.UK.
If you anticipate your VAT taxable turnover will fall below the deregistration level of £83,000 in the following 12 months, you can voluntarily cancel your VAT registration.
GOV.UK has information on what occurs when you terminate your registration and how to complete your final VAT return, and HMRC's deregistration manual has more specific information.
You must preserve your VAT records for six years after cancelling your VAT registration.
Where can I get further information on VAT generally?
VAT information is available on GOV.UK, including filing and payment deadlines, recovering VAT, VAT visits and inspections, partnerships, and using VAT online services.
To assist you understand VAT, HMRC has created webinars and e-learning tools, which you may find on GOV.UK.
Tax guides