Updated on May 13, 2022
Use our online VAT calculator to quickly add or remove VAT from a pricing.
Share VAT calculator on social media
Any value amount entered can be VAT-added or VAT-subtracted using our free VAT calculator. Our VAT calculator may be readily shared on social media so that others can compute VAT as well.
What is Value Added Tax and how much is VAT in the UK?
VAT (also known as GST in some countries) is a sales tax levied by VAT-registered businesses in the UK and the Isle of Man on the majority of products and services they offer. The standard VAT rate is currently set at 20%. The decreased VAT rate is 5%.
Reduced-rate items
Zero-rated items
VAT exempt items
Children's car seats
Children's clothing and shoes, public transport
Betting and gaming
Women's sanitary products
Books and newspapers
Subscriptions to membership organisations
Residential conversions
Food – except meals in restaurants
Fundraising events by charities
Installation of energy-saving materials
Most goods you export to a country outside the UK
Some education and training
Domestic fuel and power
Motorcycle helmets
HMRC relies on VAT-registered firms to collect tax money on their behalf. Following registration, each company has a unique VAT number for tax purposes. VAT can also be reclaimed on purchases made by these businesses.
This tax was imposed in the United Kingdom as a replacement for Purchase Tax and Selective Employment tax in 1973 as a condition of the UK's accession into the European Economic Community. Wikipedia is a good resource for learning more about VAT.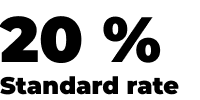 The standard rate of VAT in the UK was increased from 17.5% on 4 January 2011.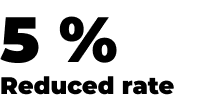 The reduced rate of 5% is applied to some goods and services such as children's car seats and home energy.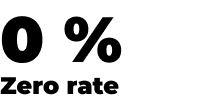 Zero VAT rate is applied to a range of products and services to do with health, publishing and kids' clothing.
UK VAT rates history
| Date | VAT changes |
| --- | --- |
| 1st April 1973 | 10% Value Added Tax has been introduced in the UK |
| 29th July 1974 | VAT rate reduced to 8% but 25% fuel tax introduced |
| 18th June 1979 | Value Added Tax rate increased to 15% |
| 1st April 1991 | The VAT rate has been increased to 17.5% |
| 1st December 2008 | Standard sales tax rate reduced by 15% |
| 1st January 2010 | The standard rate was increased to 17.5% and a reduced rate of 7% was introduced |
| 4th January 2011 | The standard VAT rate is increased to current 20% and the reduced rate is set at 5% |
VAT receipts in the United Kingdom for last 20 years (in billion GBP)
VAT Rates in Europe
Country
Standard VAT Rates
Reduced VAT Rates
Austria
20%
10%, 13%, 19%
Belgium
21%
12%, 6%
Bulgaria
20%
9%
Croatia
25%
13%, 5%
Cyprus
19%
5%, 9%
Czech Republic
21%
15%, 10%
Denmark
25%
–
Estonia
20%
9%
Finland
24%
14%, 10%
France
20%
5.5%, 2.1%
Germany
19%
7%, 5.5%
Greece
24%
13%
Hungary
27%
5%, 12%, 7%, 18%
Ireland
23%
13.5%, 4.8%, 9%
Italy
22%
4%, 5%, 10%
Latvia
21%
12%
Lithuania
21%
9%, 5%
Luxembourg
17%
14%, 3%, 8%
Malta
18%
5%, 7%
Monaco
20%
5.5%, 10%, 2.1%
Netherlands
21%
9%
Poland
23%
8%, 5%
Portugal
23%
6%, 13%
Romania
19%
9%, 5%
Slovakia
20%
10%, 6%
Slovenia
22%
9.5%, 5%
Spain
21%
10%, 4%
Sweden
25%
12%, 6%

 
Working Out VAT
To calculate VAT backwards (the price before tax) and the VAT amount manually without using our VAT calculator, follow these simple steps.
Adding VAT Formula
If you want to add VAT to a price, to divide the amount by 100 and then multiply by (100 + VAT percentage). That's all, you got inclusive of VAT value (Gross amount). To make sure you get it right, better use our VAT calculator.

VAT Addition Example
For example, we will calculate VAT at a standard UK VAT rate of 20. If your business sells goods and services for £500
First, you need to divide the amount by 100 per cent
Then multiply this value by 120 per cent
After the calculation, we get £600, which is the price including VAT
We will calculate VAT at a reduced VAT rate of 5. If your business sells goods and services for £1000
First, you need to divide the price excluding VAT by 100 percentage
Then multiply this value by 105 percentage
We get gross amount £1050 – the price VAT inclusive
It turns out that the VAT amount is £50
Removing VAT Formula
For a reverse VAT computation, divide the amount by (100 + VAT percent) and multiply by (100). You now have an idea of the total cost, excluding VAT (Net amount). Use our VAT calculator if this is a problem for you.
VAT Subtraction Example
For example, we'll use the typical UK VAT rate of 20% for calculating VAT. Assuming your company sells products and services worth £500 each, you're in business.
In order to figure out how much you need to pay, you first need to divide the total cost by 120 percent.
Then, take the result and double it by 100 percent.
After subtracting VAT, we arrive at a total of £416.67.
We'll use a reduced VAT rate of 5% to compute VAT. A business selling goods or services for £1000 is considered to be a small business.
First, you need to divide the total cost of the goods and services by 105 percent.
The result is then multiplied by 100 percent.
After deducting VAT, the net sum is £952.38.
As a result, the VAT total comes to £47.62.
47.62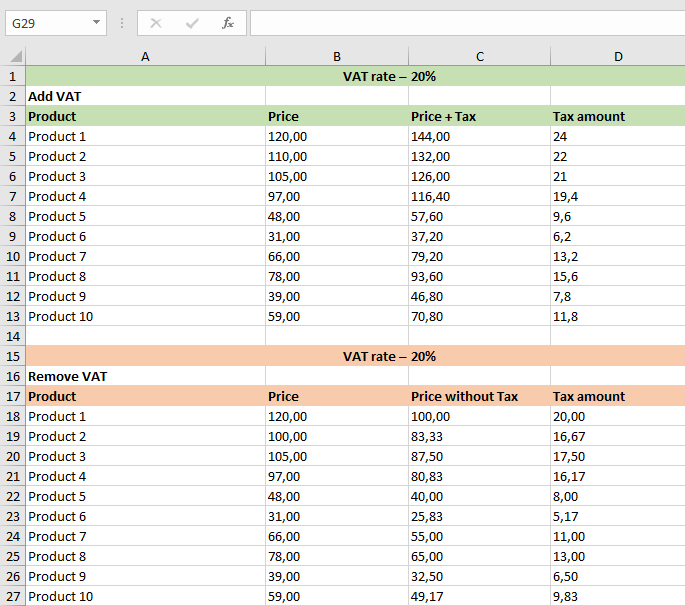 Frequently Asked VAT Questions & Answers
Value-added tax (VAT) questions and answers are provided below.
What are the current VAT rates in the UK?
Standard rate, reduced rate, zero-rated and exempt suppliers are the four basic categories to worry about when it comes to rates. Prices are subject to change and must be applied as soon as the new rates become effective. Read more..
What is the flat rate scheme?
For small firms, freelancers, contractors, and sole proprietors, the Flat Rate Scheme streamlines the VAT process. Ensure that you apply to HMRC in order to enrol in it read on to learn more
How to check the validity of the company VAT number?
You can utilise official services to check the validity of your VAT number. There is a UK VAT number checker for companies in the UK. Try VIES VAT number validation if you need to verify the VAT number of a European company.
Do I really need to register for VAT?
That is dependent on the specifics of your situation. If your annual revenue exceeds the current threshold of £85,000, you must register, and failing to do so will result in a fine. Registration is optional if you don't meet this threshold. Read more..
6 Interesting VAT Facts
Here are six facts regarding value-added tax that you may not have previously known.

In 1954, France became the first country to impose a value-added tax (VAT). The VAT rate in the United Kingdom was initially set at 10% but was gradually increased to 20% in 2011 and has remained at that level ever since.

The UK collected VAT income totaling £129.88 billion in the 2019/2020 tax year. After income tax and social security, VAT is the government's third-largest revenue stream.

After Iceland (25.5 percent) and Hungary (27 percent), Hungary is the only country in the world with a VAT rate higher than 20%. The Bahamas, Hong Kong, Saudi Arabia, and Qatar are among the countries that do not impose VAT at all.

Jaffa Cakes and Tunnocks Snowballs are two brands that have fought and won VAT battles by successfully proving that their products are cakes (VAT-free) rather than cookies, which are liable to VAT in their own right.

In 2012, the media was riveted by the emergence of the Pastygate scandal. There was strong opposition to the government's plan to impose VAT on takeout items such as hot sausage rolls and pastries.

Children's apparel, most consumables, books, and prescription pharmaceuticals are all exempt from VAT in the United Kingdom. Visits to museums, antiques, and postal services are all exempt from the VAT.
A simplified example of the VAT process
A coffee shop owner's explanation of how VAT is applied to coffee sold in a store that contains coffee beans roasted by a nearby roaster using beans harvested by a local farmer is provided below. Let's say the VAT is 20%. People and businesses in the chain are all required to fill out federal tax forms.

First, the coffee beans are grown by a local farmer in the area. If a roaster buys £5 for a pound of fresh coffee beans, the farmer receives £6 (£5 multiplied by 20 percent) from the roaster, because VAT is included in the price.

When the beans are roasted, the coffee shop owner is charged £10 per pound of roasted beans. This means that the merchant has to pay a total of £12 per pound, which includes the cost of the roasted coffee beans and 20% VAT. When it comes to paying VAT, however, the roaster only has to give the government $1 because the farmer has already paid the first $1 to the HMRC.

Each pound of roasted coffee beans can be used to sell five cups of coffee at a price of £4 each, resulting in a profit of £20. The store owner obtains a total of £24 from clients who purchased his coffee, £20 and £4 VAT, for every five cups of coffee sold. The farmer and roaster each paid £2 in VAT to the government, therefore the merchant simply has to pay £2 to HMRC.
Calculators for Small Business
We'll be adding more financial calculators to our website soon, in addition to the VAT calculator already there. Listed below are the calculators that will appear in the order they are listed. Send us an email if you need anything.

Income Tax Calculator
When you're self-employed, figuring out how much money you'll have left over after covering all of your business expenses can be a challenge.

Self Assessment Tax Calculator
Even if you're a salaried employee or self-employed, calculating your take-home pay after taxes might be a challenge.

Corporation Tax Calculator
The net profit before taxes is used to calculate the amount of corporation tax your limited company will be required to pay.

Umbrella Tax Calculator
If you work for an umbrella firm, our take-home pay calculator can give you a rough idea of what your compensation might look like.

PAYE Calculator
With the help of this calculator, you can establish your net annual salary, as well as your contributions to PAYE and NI.

Mortgage Calculator
One of the most significant financial investments you'll ever make is a home loan. You can find out how much they'll cost you with our mortgage calculator.

Pension Calculator
Retirement: How much do I need and where do I stand financially? These are all questions that our pension calculator can help you with.

IR35 Tax Calculator
There are IR35 calculators out there that allow you to get a quick estimate of your earnings based on your specific situation.

Dividend Tax Calculator
Calculate your taxable income depending on your current wage and dividends received each year using this tool.
Related VAT Guides
Watch videos and presentations. You need to register for free webinars to learn more about VAT. We also recommend checking out 
this VAT cheat sheet.
VAT Accounting schemes
You will learn about the 3 most popular schemes: cash accounting scheme, flat rate scheme, annual accounting scheme. Watch webinar about VAT accounting schemes.
How to do your VAT Return
This webinar is about: how and when to send your VAT Return, useful tips on how to complete a VAT Return. Watch how to do your VAT Return.
VAT Flat Rate Scheme
You will learn about: what the Flat Rate Scheme is, how to keep VAT records, how to fill in your VAT Return. Watch video about the VAT Flat Rate Scheme
Contractors' guide to VAT
There are several VAT schemes contractors can register to: the standard rate VAT scheme, VAT flat rate scheme, annual accounting VAT scheme and cash accounting scheme.
HMRC VAT Inspection
VAT officers can visit your business to inspect your VAT records and make sure you're paying or reclaiming the right amount of VAT.
Filing a Late VAT Return
If you submit a late return, you will not have to pay a surcharge if you: pay your VAT in full by the deadline, have no tax to pay, are due a VAT repayment.
Latest UK VAT News
Rishi Sunak MUST cut VAT on fuel to help drivers hit by record pump prices, RAC says
Car industry calls for VAT fairness on charging as February market gets electric boost.